BBYC is an annual youth conference hosted by FBC the beginning of November. The dates for this year's BBYC are NOVEMBER 3-4 with registration beginning at 3:00 p.m. on Friday, November 3. All junior and senior high youth are invited to attend (grades 7-12).
The cost for each attendee is $30 with two sponsors attending at no charge. Additional sponsors will be $30 each. Included in the cost is a conference note book, three meals, and some great surprises. We are excited to have Brian Piatt as as our guest speaker this year. Brian is the of First Baptist Church of Edgewood New Mexico. His wife Sonya will also be with him and will be speaking to the ladies.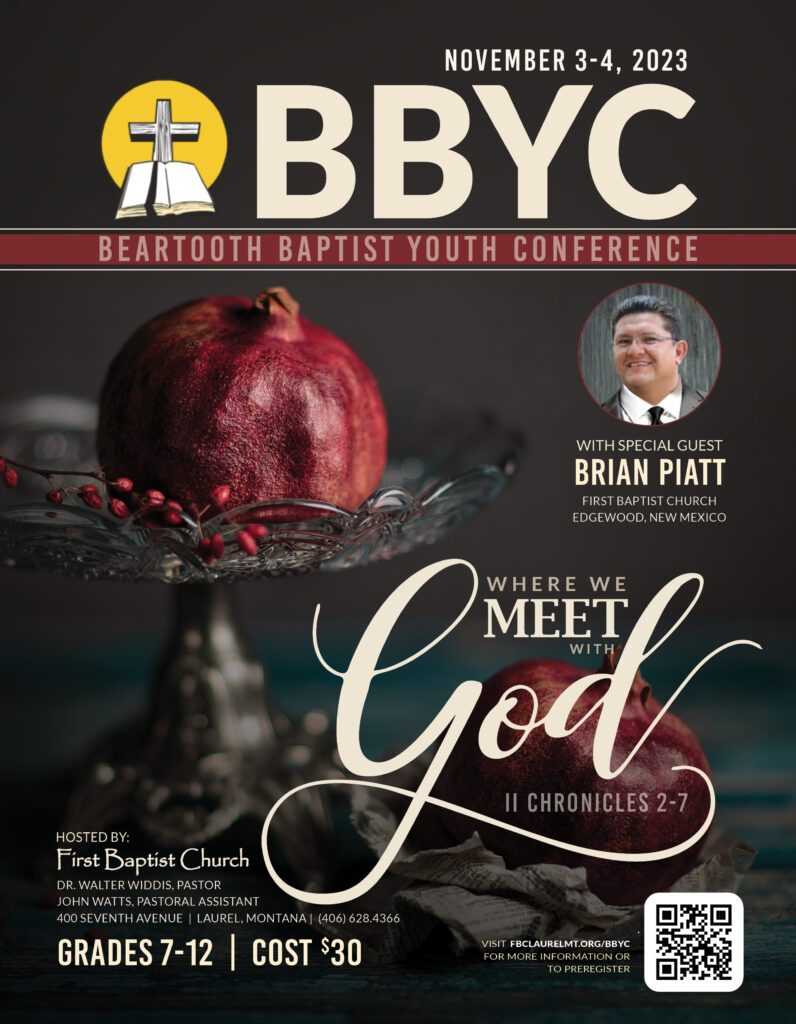 REGISTRATION
Click here to register online. Please mail your $30 registration fee to First Baptist Church or pay when you check in.
QUIZZING
Bible quizzing is a great way for youth to have fun and learn God's Word. We trust that you will get involved in the quiz this year. It does not cost anything extra! Quiz teams are as big as you choose for them to be, however, there can only be five team members or less quizzing at one time. The extra team members will be "on the bench" until put into play by their team captain or until one of the other members "quizzes out" (answers 20 questions correctly). The winning team will take home the Traveling Trophy and a group gift!
Quizzing Scripture: II Chronicles 2-7
Memory verses: II CHRONICLES 2:5,11 3:1,3,13 | 4:9,18 | 5:1,8,14 | 6:11,18,31 | 7:2,14
Some things that we do to prepare for a quiz are as follows:
Our teens write practice questions and use these questions to quiz each other. We occasionally have the quiz team meet for a mock quiz using the practice questions. We assign specific verses to each team member but encourage all members to memorize all verses.
DRESS CODE
BANQUET (SEMIFORMAL)
Please note that there will be group photo opportunities at this event. The motto for the day is "dress your best"!
Boys: dress pants and shirt with tie
Girls: dresses or skirts (non form-fitting, below-the-knee and no low necklines in front or back)
GAMES & ACTIVITIES
There will be some outdoor activities so teens and sponsors will need to dress appropriately for outside weather. No games will be so aggressive as to require girls to wear pants.
SATURDAY SERVICE
Church attire
BIBLE QUIZ
Boys: dress pants and shirt with tie
Girls: dresses or skirts (non form-fitting, below-the-knee and no low necklines in front or back)
Youth Leaders
Thank you for helping our young people in presenting a Christ-like appearance. Please help us by making sure your group complies with these dress code guidelines.
VIDEO SKIT
Join us this year in our video skit competition. All youth groups are encouraged to participate!
Each skit must be on video or DVD and is not to exceed 5 minutes in length. The theme must correspond with the conference theme—WHERE WE MEET WITH GOD or II CHRONICLES 2-7. The conference dress standards apply to the video skits. There is no registration needed, just bring the DVD/video with you to the conference and turn it in when you register on Friday afternoon. The possibilities are endless! Use your imagination, write a skit, and film it.
We had a great time last year watching the skits that were prepared. We would love to see yours, also! If you would like to participate this year, please contact your youth sponsor.
BROCHURE/FLYER CHALLENGE
Each teen is encouraged to design their own brochure or flyer for their home church. It should encourage people to attend—to come meet with God. The information must be accurate and true to your church. Information should not be fictional or embellished.
LODGING
The Locomotive Inn
310 First Avenue South
Laurel, Montana 59044
(406) 628-8281 | locomotiveinn.com
Fairfield Inn and Suites
301 S. Washington Ave.
Laurel, Montana 59044
(406) 743-7100 | marriott.com
Best Western*
YELLOWSTONE CROSSING
205 Southeast 4th Street
Laurel, Montana 59044
(406) 628-6888 | bestwestern.com
* If you choose to stay at Best Western, mention that you are a church group and would like to have the church discount.
If you have lodging questions, please contact the church at (406) 628-4366.