• Civil Unrest
• Global instability
• Financial uncertainty
• Political contention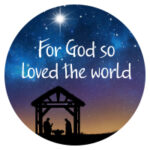 And that was the struggle over one hundred years ago. Those problems are just exacerbated by our modern cyber, technological world scene. What is the answer?
Perhaps you remember that pop song of a previous generation: "What the world needs now is love, sweet love…" We could certainly agree with the sentiment. There appears to be much more hate than love. The Lord gave the answer to the cry of man as well as this pop inquiry some 2000 years ago.
For God so loved the world, that he gave his only begotten Son, that whosoever believeth in him should not perish, but have everlasting life.

john 3:16
Is love really what we need? Yes, it is, but not the love of romance or social benevolent tolerance. Rather, what the world needs is the loving touch of an almighty, gracious God.
This touch has been offered to humanity since the beginning. Right after the first rebellion, God came to Adam and called out to him.
And the LORD God called unto Adam, and said unto him, Where art thou?

genesis 3:9
God's desire was that we would be restored to proper relationship with Him as well as each other. But man's sin had caused a great rift.
Wherefore, as by one man sin entered into the world, and death by sin; and so death passed upon all men, for that all have sinned: Romans 5:12
That great rift could only be healed by an even greater act of love and mercy.
For as by one man's disobedience many were made sinners, so by the obedience of one shall many be made righteous.

romans 5:19
That healing is available to us, if we want it.
Surely goodness and mercy shall follow me all the days of my life: and I will dwell in the house of the LORD for ever.

psalm 23:6
Come now, and let us reason together, saith the LORD: though your sins be as scarlet, they shall be as white as snow; though they be red like crimson, they shall be as wool.

isaiah 1:18
Look unto me, and be ye saved, all the ends of the earth: for I am God, and there is none else.

isaiah 45:22
Does the world need love? YES! We all need the love of God who sent His Son. That is what Christmas is all about – God sending humanity a gift beyond measure, His one and only.
But when the fulness of the time was come, God sent forth his Son, made of a woman, made under the law,

galatians 4:4
When the angel spoke to Joseph in the Christmas story, he was told the reason for this gift.
And she shall bring forth a son, and thou shalt call his name JESUS: for he shall save his people from their sins.

matthew 1:21
When the angel of the Lord announced the birth of Jesus to the shepherds, he repeated this message.
For unto you is born this day in the city of David a Saviour, which is Christ the Lord.

luke 2:11

God's love was displayed for us with great compassion and purpose: our salvation.
But God commendeth his love toward us, in that, while we were yet sinners, Christ died for us.

romans 5:8
This is the love the world in general, and each of us in particular, need.
Will you receive His love?
For whosoever shall call upon the name of the Lord shall be saved.

romans 10:13
If you have trusted Jesus, contact us for help. We would be honored to assist you in your new life with Christ.